Impact Of UPI Payments on Banks- 2022
To start with, UPI payments have been undoubtedly the biggest champions among users due to their ease and smooth-sailing method of payments. But, does the same ease reflect on banks? The answer would be pretty unfavorable because UPI payments impact the bank's fee. Due to the government-stipulated policies, UPI payments do not earn merchant fees, putting banks in the back seat.
Let's not be too hasty now because we need to shell out the reasons behind them. The tremendous shift to QR- based payments were all the rage among users, especially during the pandemic. The adoption and shift towards UPI QR-based payments especially among small stores across the country have increased exponentially. This is because they do not have to pay out a Merchant Discount Rate to their bank or non-bank service providers. On the contrary, merchants' margins have hit down for non-rupay card transactions.
A brief overview of the impact on banks:
In a recent report by HDFC Securities, UPI has emerged as the preferred payment method for low-value transactions that are below RS. 500. This new shift coupled with the rising competition across payment modes has put overall payments on the brink. This is due to lower fee yields across the ecosystem.
Above all, HDFC Bank saw a fee decline on payment products, dipping on a year-on-year basis, in the month of December. On the other hand, Axis Bank faced a downfall in retail card fee income as the numbers fell from 2.5% in Q1 of FY 18 to 1.9% in the Q3 of FY22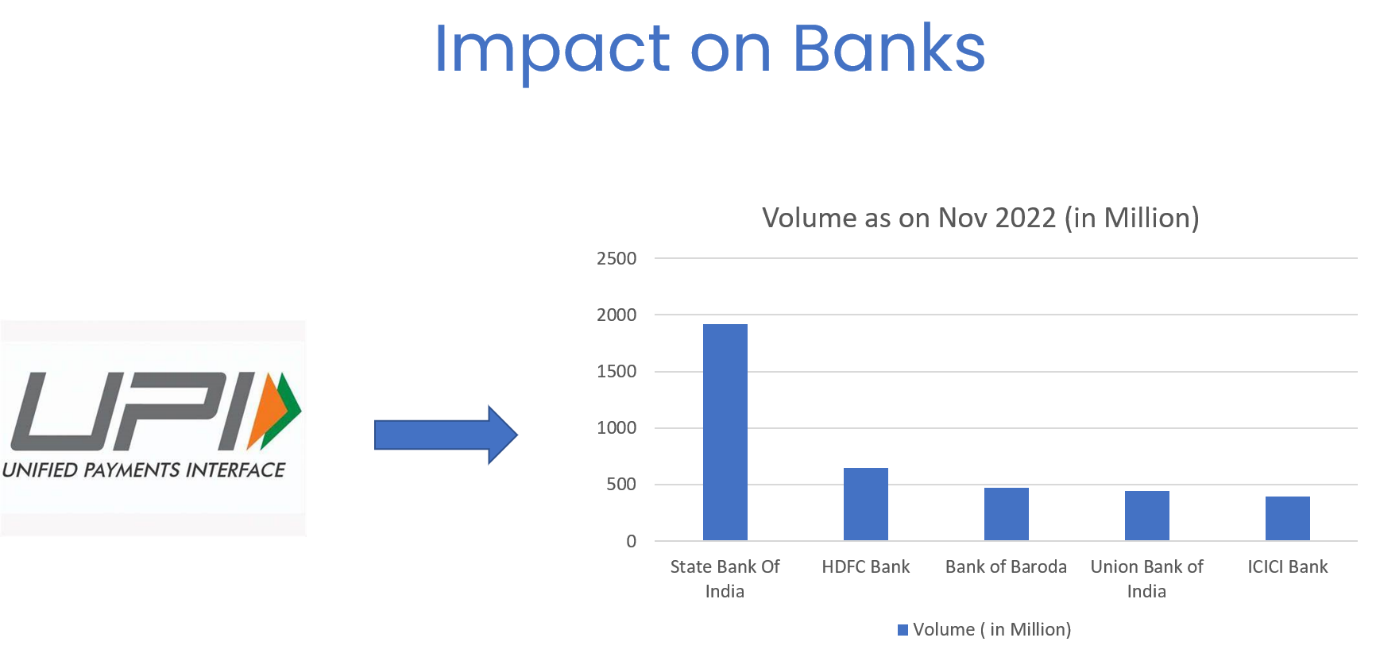 Though there is an increasing trend of non-MDR bearing UPI transactions of about 50% from 5%, the payment take rates have plunged from 74 basis points to 38 basis points, a report from ICICI Securities said. The report further said that compared to the 36% CAGR in merchant GMV during FY22, the revenue of the payment business is said to grow at only 26% as the zero MDR UPI is estimated to increase to 62%. Thus, we can surmise the impact on banks.
What's on the road to the future?
UPI has brought to the fore a lot of developments in the payments industry. But, it does create an impact on banks. The payments industry is in hope that the government will allow some charges to be levied on UPI transactions once the transaction volumes attain a critical mass. During March 2022, the UPI transactions accounted for 5.4 billion. Payment Players are on the go on having discussions with the RBI regarding the transactions. Eventually, the government will take measures to benefit the players to ensure their efficacies aren't compromised while making sure that they foster UPI Payments among the users to build a better ecosystem.
Follow us to get more insights on the developments in the Fintech Industry
« Back