Introducing NTS system for RuPay cards
With Technological developments aboard, the necessity of data security has been a need of the hour. So, NPCI has introduced the NTS (NPCI Tokenization system) with the main focus of securing the data of customers from merchants.
The merchants should securely hold the card details or any sensitive information of the account holders with due diligence.
NPCI have made it incumbent to make the security system seamless and less chance of security breach by unauthorized personnel. Tokenization is a process of transferring the confidential account number of customers into a range of characters to mitigate data frauds.
Undeniably, this system has put most of us technically abreast. Moreover, this new innovation is incorporated for storing customer data by the merchants to promote a boundless payment.
Guidelines issued by RBI
It is mandatory to restore customer data in the form of a ' Token' which should be encrypted to enhance security.
These tokens would prevent the merchant from acting as intermediaries to facilitate the payment transaction with privacy of data.
Need of NTS system
Customers should know the ropes of every development being made regarding payments to constantly be wary about every payment.
The NPCI'S Token Reference Number on File, otherwise known as TROF will aid RuPay cardholders to ensure the safety of their financial information.
Thereafter, merchants can register themselves with NPCI and get certified as Token requestors to save the TROF for all card numbers stored in their vault.
Additionally, all the business service providers can hold the RuPay customer's information using TROF to utilize it for future transaction.
Altogether, this high-end encrypted system will make sure that no unauthorized person will access the data.
The below picture explains the detailed workflow of NTS system on RuPay cards.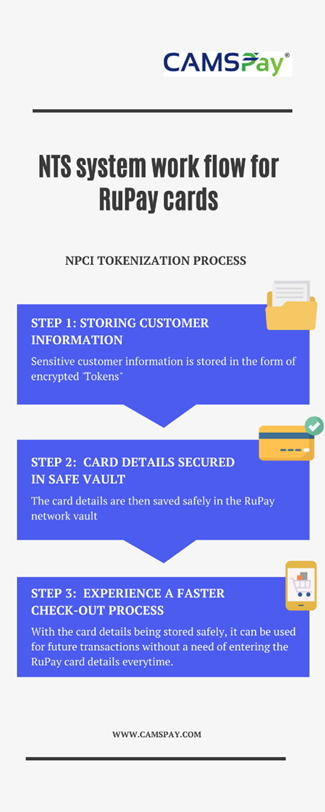 Additionally, tokenization will make the entire transaction journey frictionless by providing a rapid check-out accomplishment to the customers.
Mr. Kunal Kalawatia of NPCI further reasserted that the new guidelines released by RBI will play no fool-game and will create a transparent system
Thereafter, this newly adopted system will steadily contribute towards the developing and ushering the payment system further,
Visit CAMSPay to know more about Tokenization
Connect with us in Social media
« Back