CAMSPay's Business App- Simplifying The Mandate Registration Process
Ever wondered, how technology has made things simpler? Like we have all noticed the changes but have we given it a long thought? From kitchen to corporate life, the world has changed immensely. Many ongoing traditional means have found their digital competition or companion in various global sectors. Fintech in India is no exception either. Mandate registration is carried out when onboarding a customer into the Mutual fund, EMI, and other loan scenarios.
Since 2013, the process of NACH mandate registration has been happening in full swing. Then came eNACH, UPI Autopay etc. Over the past many years, Mandate registrations have always taken multiple days of process and scrutiny. The main aim of CAMSPay was to find a solution to this multi-day, time-consuming challenge. CAMSPay's Business App was that very solution.
While we have spoken about digital transitions about money, loans, etc, today let's look into the technology shift that has taken place in the mandate registration process. We shall also look into the newest yet revolutionary solution that CAMSPay has brought to the table.
CAMSPay Business App brings the mNACH process to the merchants. mNACH is a method of mandate registration like that of NACH and E-NACH. mNACH enables speedy lodgement of mandate with the destination bank and simplifies the mandate registration process. Merchants can speed up the mandate registration process with ease and comfort.
Now, merchants can scan their mandates using CAMSPay Business App and avoid sending them physically.
The app can be used to register mandates, be it both NACH and eNACH, in record time. This app satisfies the need of the hour and can now facilitate instant mandate registration.
With CAMSPay Business App, merchants can register their mandate in mere few seconds depending on the process involved. The app supports Net banking, Debit card, UPI Autopay, and Aadhar-based mandate registrations. Along with these, the app also handles the NACH process supporting image capture and data entry.
Challenges we address in mandate registration
Excessive time is taken to register each mandate (up to 15 days) – No means to reduce the time taken
Transporting physical mandates – No means to make the process digital
Need for much workforce for transporting and data entry – No means to enhance this situation
Delay in service delivery. So, CAMSPay's Business App facilitates all recurring and one-time payments in-app to fasten the service delivery
CAMSPay Business App is currently filling these gaps and more.
The App built for your customers- Mandate Registration made simple
CAMSPay Business App stands for many of its one-of-a-kind features that provide many benefits to the BFSI merchant. While the brand supports the traditional methods of mandate registration, we also support it by giving digital solutions making it easier for our clients and customers Additionally, we care for our motto of providing a panoptic solution. Given this, we are also expanding our product horizons, adding value proposition and success towards other sectors like Education, OTT, etc. The benefits of a Business App cannot be cornered to mere few points. But to point out a few sample features and the app's USPs: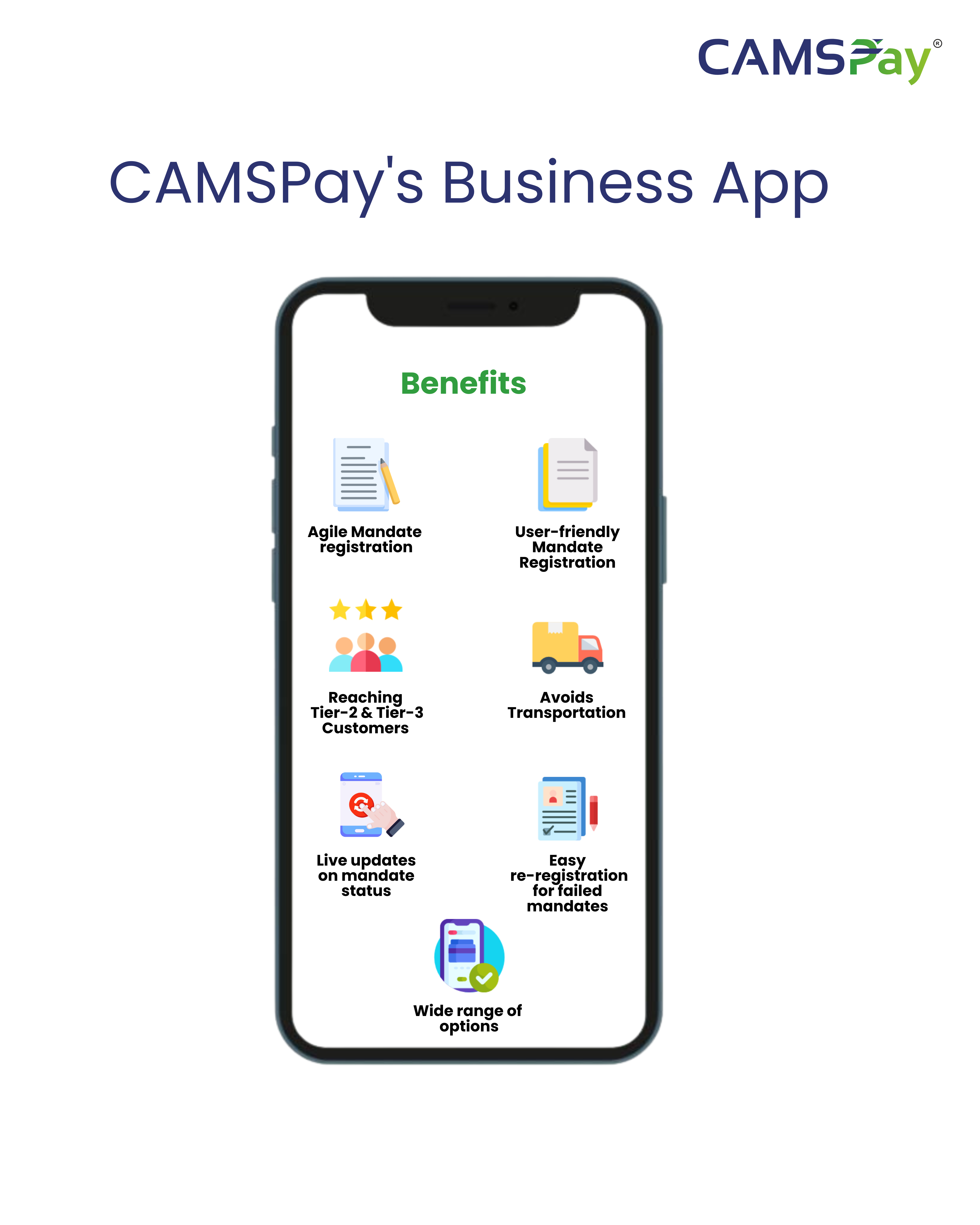 How to download it?
The app is available in all android stores, from where anyone can download the app onto their mobile phone. Each merchant from various financial institutions will be given a unique login credential. They can utilize it to log in to this app. Upon logging in, the merchants can use the app to register their mandates, take images of the physical mandates, process them, etc.
Are you on the lookout to expedite your mandate registration process? We are happy to give you a demo of our CAMSPay's Business App. Click here and share your details, and we will reach out to you shortly.
« Back