eRUPI- Understanding the next big phenomena in the Payment Ecosystem
Back in 2016, the need for eliminating corruption was taken to the front and thus resulted in Demonetization. This key objective of the government with demonetization began to alter the Indian economy. Altogether it paved the way for the advent of a new and currently witnessed digital economy. Amidst a variety of new digital payment modes present, the payment innovation we are going to discuss is eRUPI.
With digitalization upfront, let's also leap into the new trend of eRUPI and stay digitized!
eRUPI is an innovative digital payment platform launched by the National Payments Corporation of India (NPCI). RBI's Central Bank Digital Currency is an electronic version of cash, meant primarily for retail payments. It is currently in the pilot stage covering four cities namely Mumbai, New Delhi, Bhubaneshwar, and Bengaluru. Four major banks including State Bank of India, ICICI Bank, Yes Bank, and IDFC First Bank are taking over the control of this launch.
eRUPI is in the form of vouchers. Any government agency can generate e-vouchers with the help of their bank partners. In a nutshell, eRUPI is like a pre-paid gift card delivered in a QR code or SMS string. Beneficiaries can redeem the voucher without internet banking, cards, or digital payments app. Even a person without a bank account can use eRUPI!
Additionally, there is no need for a smartphone to use this service as the features phones will also receive the SMS String. Users can store the money in their wallets and make payments directly to the merchants without any involvement from banks. The contact-free eRUPI keeps your data highly confidential thus making it a safe, secure, and super-agile payment platform.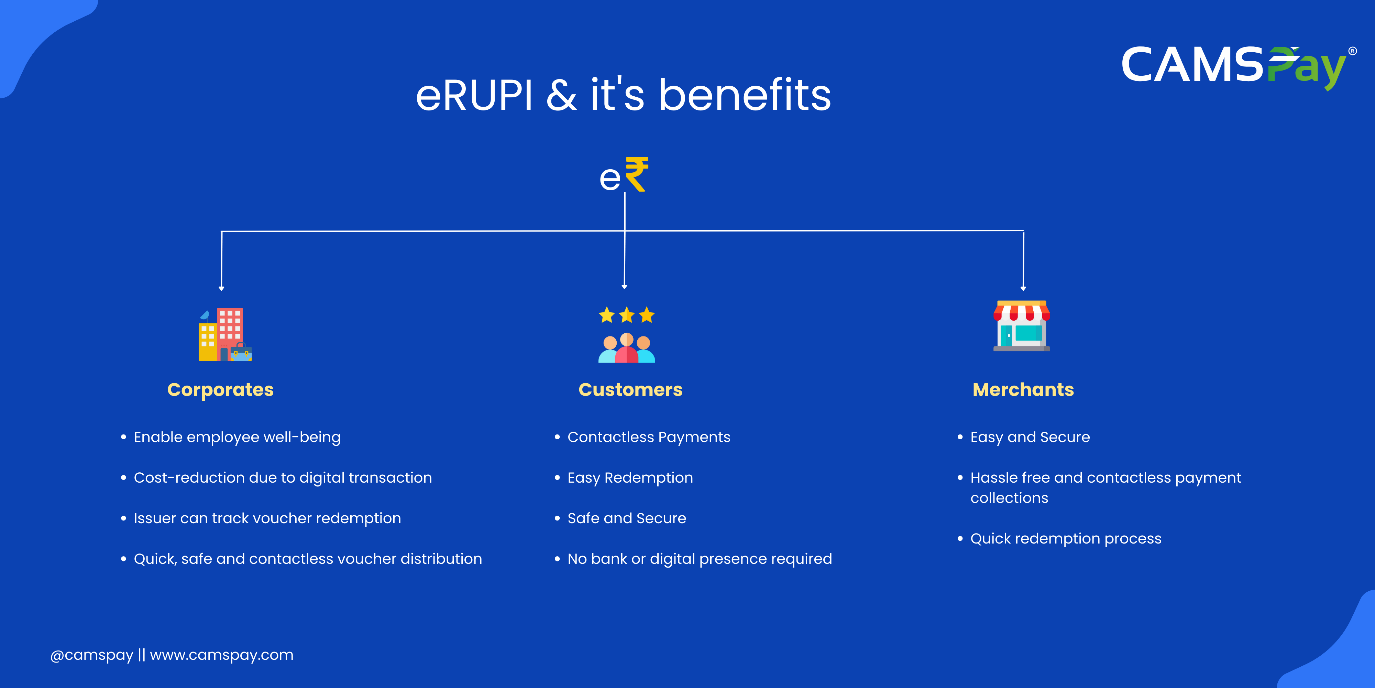 Wondering where to get your eRUPI?
If you are on a long quest for eRUPI, all you need to do is wait a bit longer. Because it is still in the pilot stage launched primarily in only four cities. But be fingers-crossed, we can expect RBI to turn the tables around soon. RBI is on the lookout to expand it's availability in cities namely Ahmedabad, Gangtok, Guwahati, Hyderabad, Indore, Kochi, Lucknow, Patna, and Shimla.
So, if the test run goes well with the four banks, we can witness the official launch of the brand-new eRUPI across the nation.
In Conclusion – What to expect?
With developments around the corner, we need to stay in a close loop with RBI's updates to get more clarity on eRUPI's official launch. As of now, we can be sure of the commencement of eRUPI as this contactless method of payment is a good alternative to physical cash. And it is only expected to grow further bigger and better for the economy.
Stay tuned with us to get more insights on the developments in the fintech industry.
« Back