Embedded Banking- Market Scenario in India
This edition of the CAMSPay's Payment Insider blog will explore embedded banking.g. Embedded banking, otherwise known as Embedded finance is the integration of financial solutions with the business solution through API. The impact of embedded banking has echoed much attention among modern users as a result, it is developing at a faster pace.
A great example of embedded banking is customers making payments through a payment app such as Google pay. Going forward, we will briefly discuss how the entire banking process is embedded.
Embedded banking- How banking Is embedded?
Embedded banking has completely revolutionized the digital payment process by better leveraging third-party service providers and Artificial Intelligence. In addition to this, they also utilize fast-growing technologies such as Virtual reality, Machine Learning, Voice-Based Banking. Above all, this seamlessly integrated process is beneficial to banks as well as the business participants, as it reduces the time and resources without keeping a tab on customer service. Due to this, it has a competitive edge over others service platforms. The sudden foray of embedded banking into the digital world has broken the shackles of the tiresome banking process.
Indian Market Scenario of Embedded banking
The sources reveal that 59% of Indian users have opted for a digital-only bank. Post covid, the numbers of users have become more active thus elevating digital banking. Market experts project that the number would touch almost $7 trillion if this trend continues by the year 2030.
Adoption of embedded banking has paved the way for MSMEs too as they have incurred a major demand for short-term credit thus making it difficult for them in availing it. To lessen the difficult situation, the B2B E-Commerce participants help them by providing Buy-Now, Pay-Later (BNPL) option to the retailers. This platform has immensely benefitted the MSMEs thus setting up a paradigm as the fasted growing payment option for E-Commerce.
As per the market data, BNPL apps have spiked by a margin of 162% in customer acquisition. By 2023, BNPL is expected to account for 3% of the global E-commerce market.
Intending to improve the state of the economy, BNPL allows MSMEs to avail credit and repay them later as per their convenience. As a result, this encourages the MSMEs to improve their line of business without procrastinating things thus helping them to manage the shortfalls in their working capital while gearing up the digital platform's Average Order Value and Customer Lifetime Value.
Embedded Finance – Impact on the Economy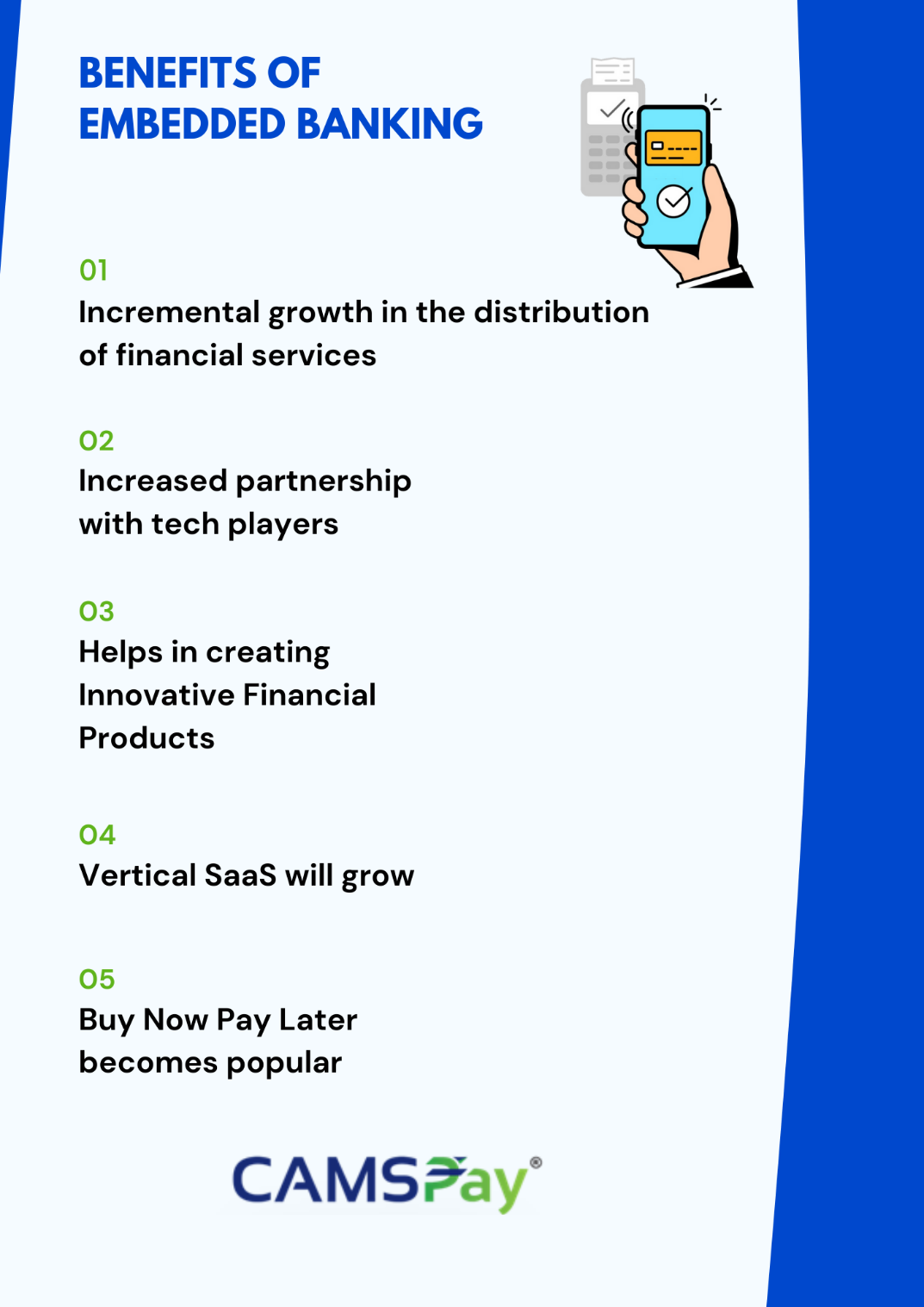 Conclusion
Any innovation or development has always advocated positive feedback from the customers. But one concerning factor is the cost. Though it is very less time-consuming, the adoption of this technology incurs a high cost that some consumers cannot afford. Thanks to API for providing such a paramount innovation for a developing country like India, but the accessibility by rural people is still a matter of concern.
Despite being in the developing phase, and we can expect a major reformation in the economy. With a ray of hope, it should facilitate the people throughout the country especially in terms of affordability and accessibility.
Interesting right? Visit CAMSPay to know more
« Back